A gadget that unifies numerous circuits into one is a multimeter. An ammeter, voltmeter, and ohmmeter are all functions of a multimeter that concurrently measures current, voltage, and resistance.
The multimeter's top circular knob may be turned to change the mode from measuring voltage to measuring current and other things.
The KM601 is a reasonably priced "smart" digital multimeter produced by Kaiweets, a 2018 startup that makes electrical testing and measuring equipment. The KM601 is a low-cost digital multimeter that appears to be geared toward the maker community,
our target market. The KM601's performance for usage in electronics manufacturing, prototyping, and maintenance will be the main emphasis of this evaluation.
Layout Of Kaiweets KM601 Smart Digital Multimeter
This is not your typical "dial and LCD" style multimeter, as you can probably guess, as we are instead presented with a large, color LCD and 5 buttons below. It seems like an extremely large smartphone to us. Four LEDs below the buttons
show which leads should be placed for each mode. Instead of being positioned on the front of the gadget, the leads are mounted on the bottom.
This design decision, which prevents the device from lying flat and causes the leads to hang in an unfavorable position, is something we don't particularly appreciate.
On the edge of the gadget, there are three buttons: a power button on top, an APO button on the right, and a flashlight button on the left. Overall, the multimeter's design is novel and departs from the conventional dial and LCD layout.
However, this approach needs a few extra user input steps before you can utilize your multimeter. For the vast majority of manufacturers, it won't matter because it will just take a few seconds.
The "SMART" or automatic feature makes a commendable effort to expedite things, but it can also be manually overridden, as we shall cover in a bit.
Features Of Kaiweets KM601
Particularly for the price, this gadget has a lot of features. It offers all the fundamental features you would anticipate as well as a few nice-to-haves: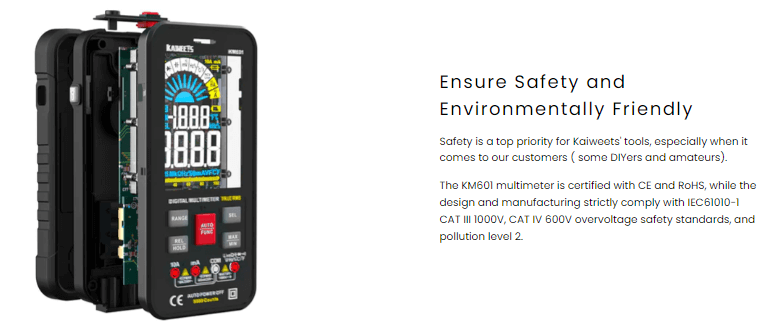 Kaiweets KM601 Review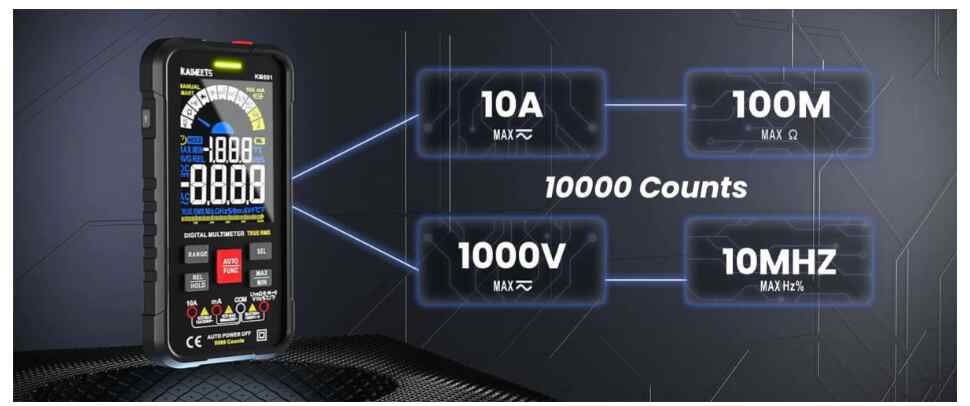 Almost all functions work as intended while in use, although there is a perceptible wait before the auditory beep is heard when using the continuity test mode. We initially believed there was no continuity because it was so long.
This did become rather inconvenient, but we quickly adapted. The exact delay is difficult to predict, but we soon became accustomed to it.
Despite having a dedicated flashlight button on the side of the gadget, it is also frustrating that the flashlight can only be used while the multimeter is turned on.
Usage
Conclusion
Even though it has complex capabilities, this powerful gadget is simple enough for the average household to use. Professional electricians utilize it. You can accomplish a lot with it.
You will use this instrument more often than you think, which is helpful to have it around the house. Here is a special present for our readers. Use our Special Discount Promo Code "IF15" and get a 15% initial discount. (Visit On Official Website 15% Off)